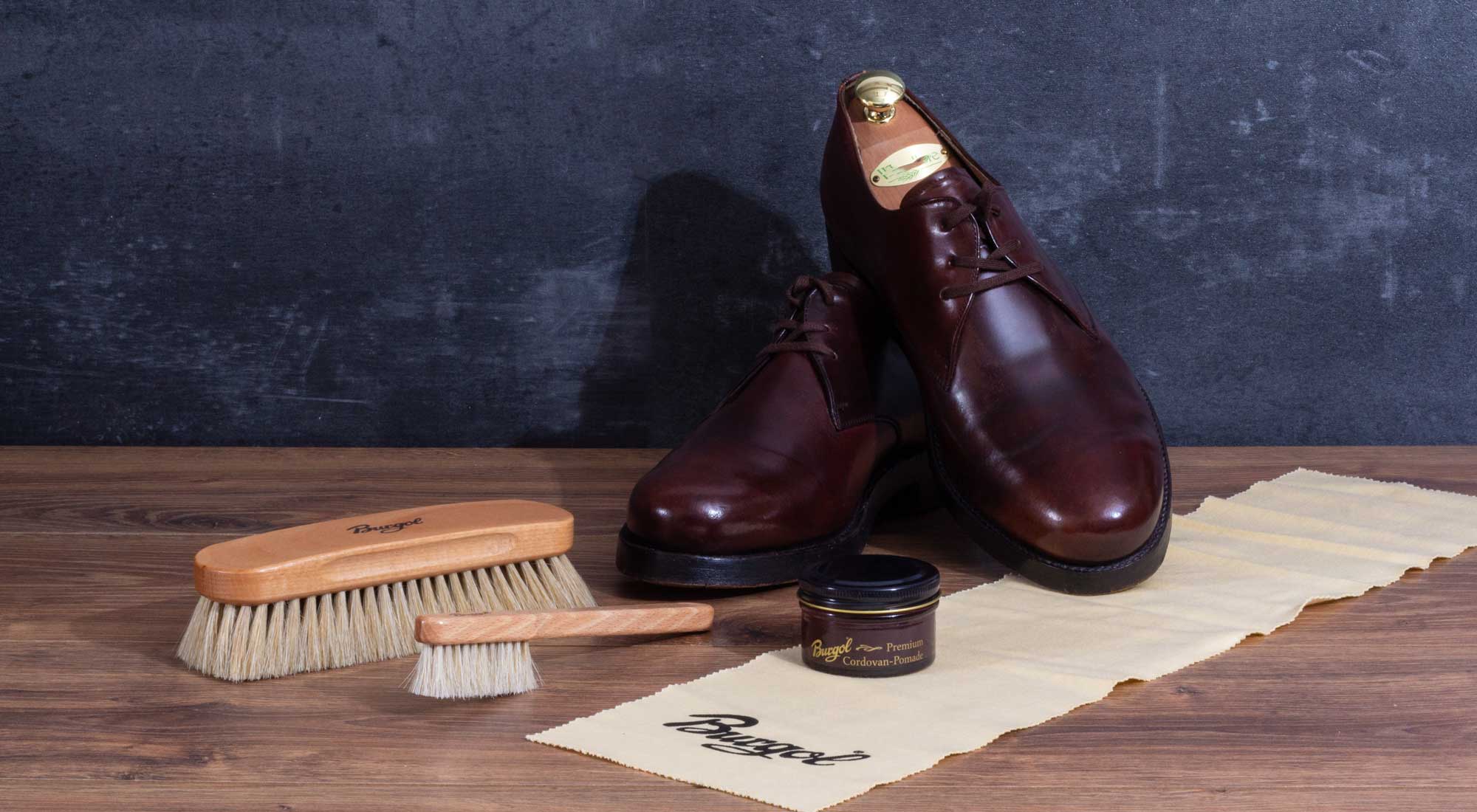 Shoecare for Shell Cordovan shoes
Shell Cordovan is often referred to as horse leather, but it is a very special piece of skin from the back of the horse. Only this special piece is Shell Cordovan, all other pieces from the skin are simply horse leather.
Shoes made of Shell Cordovan require little care and are extremely robust.
Step 1: Cleaning of Shell Cordovan shoes
As far as lace-up shoes are concerned, take the laces out of the shoes. Brush off the leather with the Burgol Luxury Dirt Brush. Water-soluble dirt can be wiped off with a moistened Burgol Polishing Cloth.
Especially new shoes can have a white coating on the surface after a change in temperature. This is not dirt or mould, it is grease that leaks from the leather. You can simply wipe it off with a cloth.
Step 2: Shell Cordovan shoe care
As mentioned above, Shell Cordovan needs little shoe care.
Apply Burgol Cordovan Cream Polish sparingly with the Burgol Dauber Brush to the narrow areas between the upper leather and the edge of the sole, and also to brogueings.
Apply a thin layer of Burgol Cordovan Cream Polish to the smooth surfaces using the Burgol Polishing Cloth.
After a few minutes, polish the shoes to shine with the Burgol Horsehair Brush 30 mm hair length.
Step 3: Even more gloss
Shell Cordovan has its own typical gloss due to its dense surface. Shoe afficandos can tell by the sheen alone whether they are made of Shell Cordovan.
According to our opinion a shine created by shoe wax does not match with this special leather.
You achieve the typical Shell Cordovan shine by a lot of manual work, which mean extensive brushing.
You can also clamp a shoe between your knees, stretch the Burgol Polishing Cloth Super Gloss between both hands and polish the leather with quick movements.
Step 4: Regular shoecare
Regular shoecare for Shell Cordovan means wiping with a damp cloth and a lot of brushing. Burgol Cordovan Cream Polish only needs to be applied every few weeks, depending on how often you wear it.