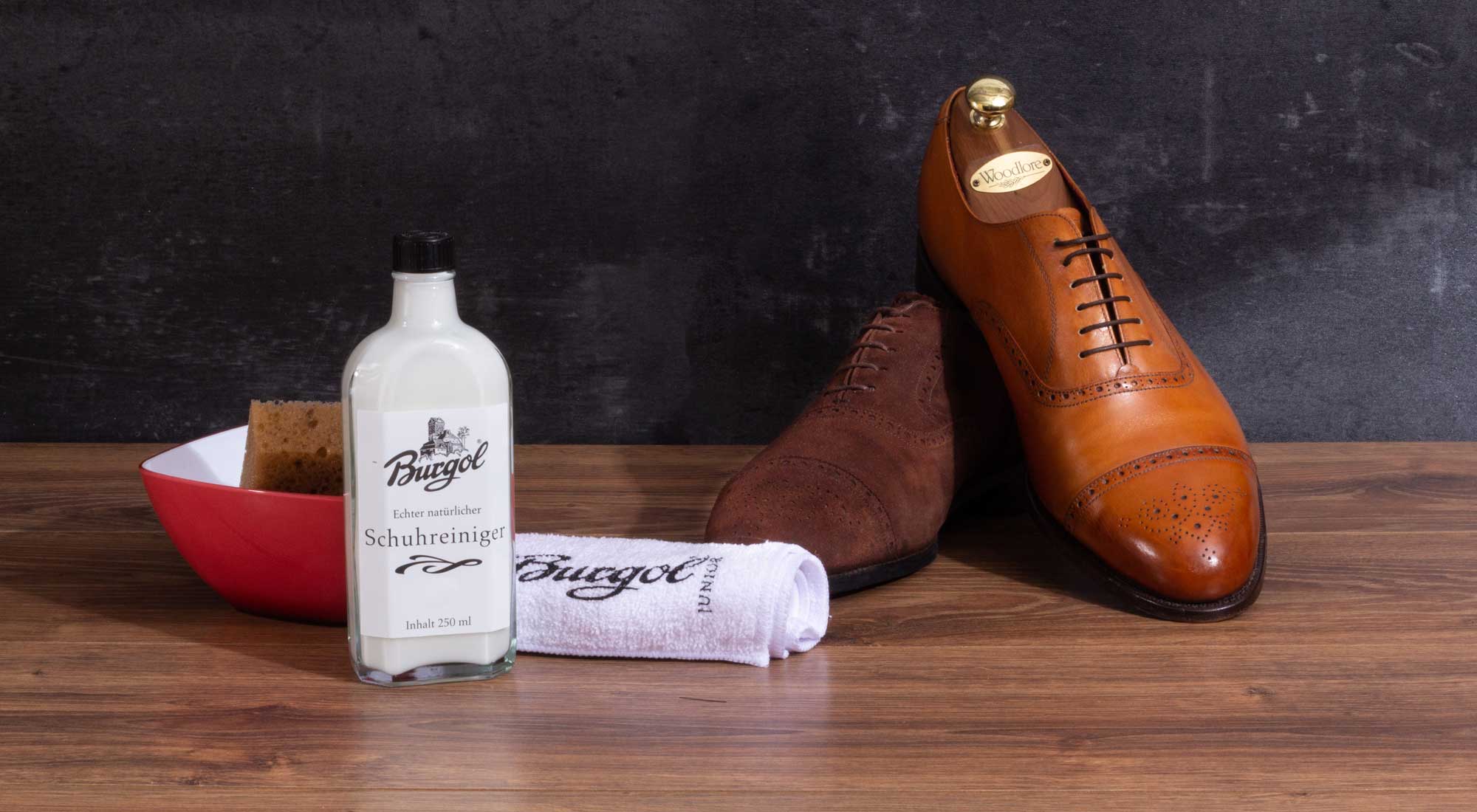 Wet cleaning of shoes
Shoes should be clean and well-cared, but excessive and constant basic cleaning of the shoes is not necessary and is rather straining the leather.
Dirt that cannot be removed with a shoe brush should be wiped off with a moistened cloth. The Burgol JUNIOR Microfibre Cloth has a supporting effect.
Only when these steps are no longer sufficient shoeswill be wet cleaned.
Step 1: Preparing of the shoes
For wet cleaning, remove the laces from the shoes. Leave the shoe trees in the shoes. Due to slides stretching of the shoes wet cleaning thus reaches the leather more effectively, espescially in the area of the walking folds.
Wet cleaning can reach the leather better, especially in the area of the creases, due to the slight stretching of the shoes.
Before wet cleaning, brush the shoes with a Burgol Luxury Dirt Brush. The removal of loose dust and dirt is particularly important for suede shoes so that loose dust is not washed even deeper into the fine pile during wet cleaning.
Step 2: Shoes wet cleaning
With Burgol Shoe Cleaner you can clean shoes made of smooth and suede leather. Despite its gentle effect on the leather, it can remove many typs of soiling.
Burgol Shoe Cleaner is a concentrated cleaner. Put some cleaner in a bowl and dilute it with the same amount of water. Hand warm water supports the cleaning effect.
Take up the diluted shoe cleaner with a sponge and wipe the leather. Repeat the process several times until no more discoloration is visible in the shoe cleaner running down.
Do not rinse the remaining shoe cleaner off the leather with water. The ingredients of Burgol Shoe Cleaner have a caring effect on the leather. Dab the wet shoes with a piece of paper towel.
Always clean the entire shoe and both shoes. If you wet-clean the shoes only partialy, edges may appear when drying. If you clean only one shoe, the colour picture can differ slightly during the subsequent care.
Step 3: Let your shoes dry
As strong as the desire is to care for your shoes as quickly as possible after cleaning, allow the leather to dry. Ideal is overnight at room temperature. Do not use a heat source for faster drying.
Important Notes
Always test on a less visible part of the shoe how it reacts to a shoe cleaner. Do not immerse your shoes completely under water.
Open sole edges and heels often consist of several layers of leather. If they are not completely sealed, they will soak up water. The leather may swell there and clued areas can come off. Therefore, use water sparingly and for a limited time.