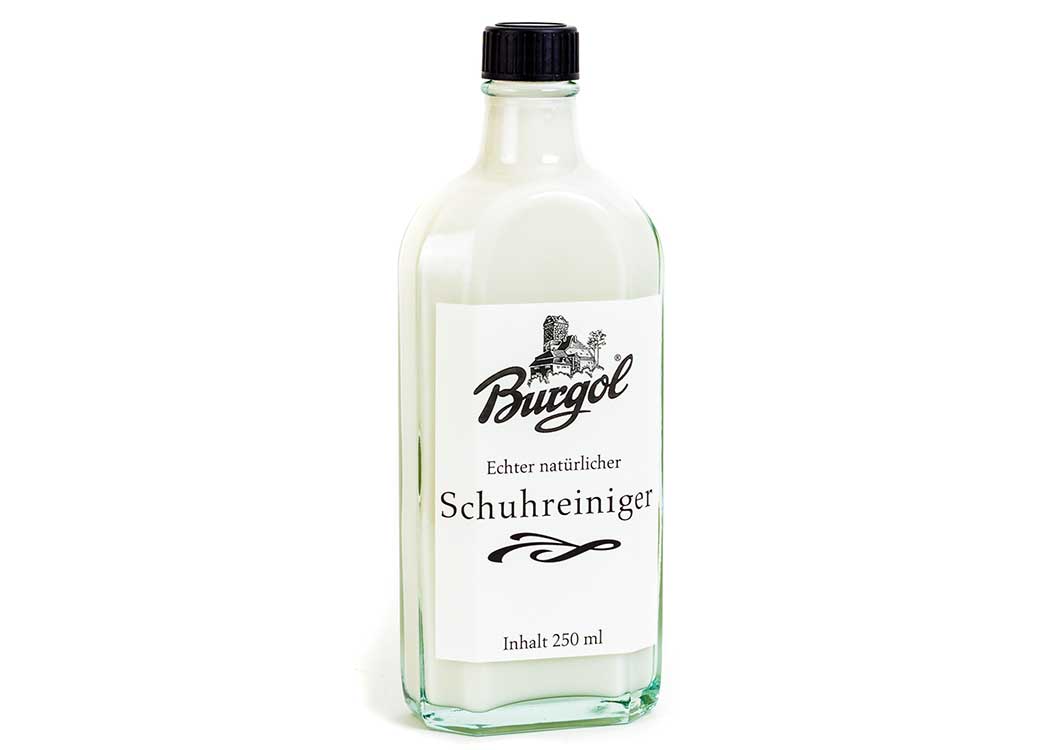 Burgol Shoe Cleaner
The gentle Shoe Cleaner from Burgol
When cleaning shoes, whether they are made of smooth leather or suede leather, always proceed as gently as possible but as vigorously as necessary.
Although environmentally friendly and biodegradable, the Burgol Shoe Cleaner is a gentle cleanser that shows its strengths both in regular shoe cleaning and many stains.
It is usually used for the gentle cleaning of leather sandals, shoes and boots. Optimal results can be achieved for smooth, rough and exotic leathers. It has a disinfecting effect and significantly reduces the smell of sweat. In addition, the leather remains supple and is nurished with various care substances, so to speak "new food". Burgol's Shoe Cleaner was developed by the master tanner Andreas Ollert from Bavaria and tested and rate das axcellent by the tannery school in Reutlingen, Germany.
Nourishes the leather
Reduces sweat smell
Biodegradable
250 millilitre capacity
Glass bottle with screw cap

Application
Dilute 1:1 with water. Wet the cloth, sponge or brush, then clean the shoe wet. Rub vigorously (cautiously on antique finishes!) with a brush. Do not rinse or wipe off. It is important that the upper of the shoe is cleaned over a large area so that no ugly edges are visible. Allow to dry with inserted shoe tree.