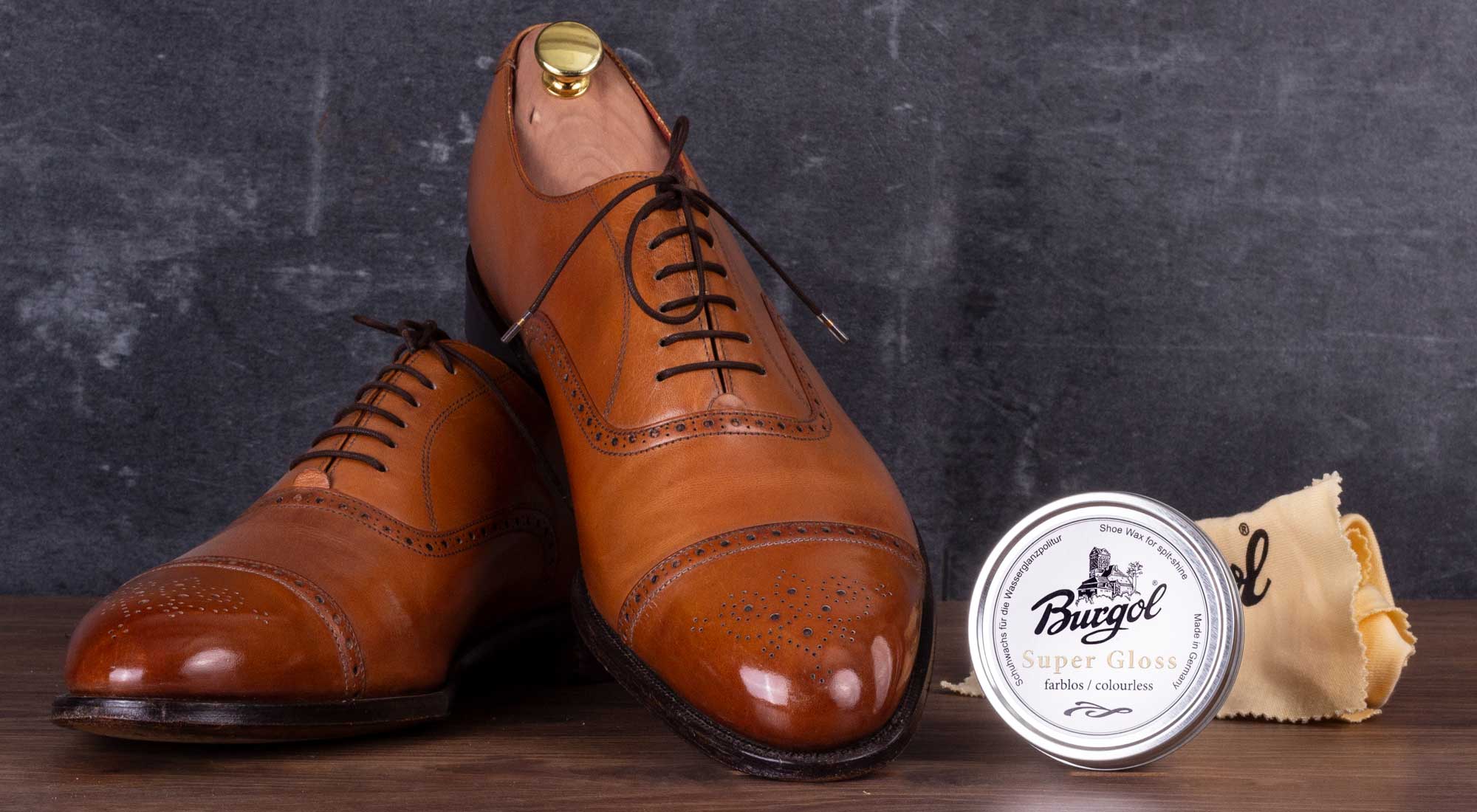 Water gloss polish Super Gloss
With a fine polishing brush, like the Burgol Yak Hair Brush or Goat Hair Brush, and a good shoe wax you can create a great shine on leather shoes. But for some shoe aficionados this shine is not enough, they want to reflect themselves in the shoes.
The increase of the shine is called water gloss polish or also Super Gloss. The wax layer on the leather is smoothed more and more until a mirror-like surface is created.
The ingredients are a suitable shoe wax, a suitable polishing cloth and water.
Step 1: Prepare shoes
The best preparing of the shoes is our instruction "Shoecare for smooth leather shoes". A water shine polish requires well cared shoes with a first wax layer on the leather. Otherwise, the water would be absorbed by the leather during subsequent polishing and the effort would be in vain.
Step 2: Polish with shoe wax and water
Water polishing is not a science, you just need some practice and patience.
Wrap the Burgol Polishing Cloth Super Gloss around one or two fingers. The surface of the cloth for polishing on the finger must be smooth and even.
Use the polishing cloth to take up some Burgol Shoe Polishing Wax. Then take up one or two drops of water. Now polish the wax and water with small circular movements and gentle pressure on the leather.
The previous shine will be lost by the new shoe wax. Polish until a new shine is achieved. The layer of water between the wax layer on the leather and the shoe wax on the polishing cloth reduces friction and smoothes the wax layer. The result is a higher gloss.
Repeat the process with less and less shoe wax and more and more water on the polishing cloth.
You can repeat the process several times until the desired mirror shine is achieved.
Multiple layers of wax can break when the leather moves. A water gloss polish is therefore only applied to the tips of the shoes.
Step 3: If it does not work immediately
Do not despair if you do not achieve the desired result at the first attempt. It takes practice and tact. The ideal practice object is an old shoe that has been already cared for many times.
Step 4: Colour effect with the water gloss polish
Shoe wax has less color intensity compared to shoe polish. Experiment with shoe wax in different colours. For example, blue shoe wax can be used on black shoes to optain a more intensive seeming black.