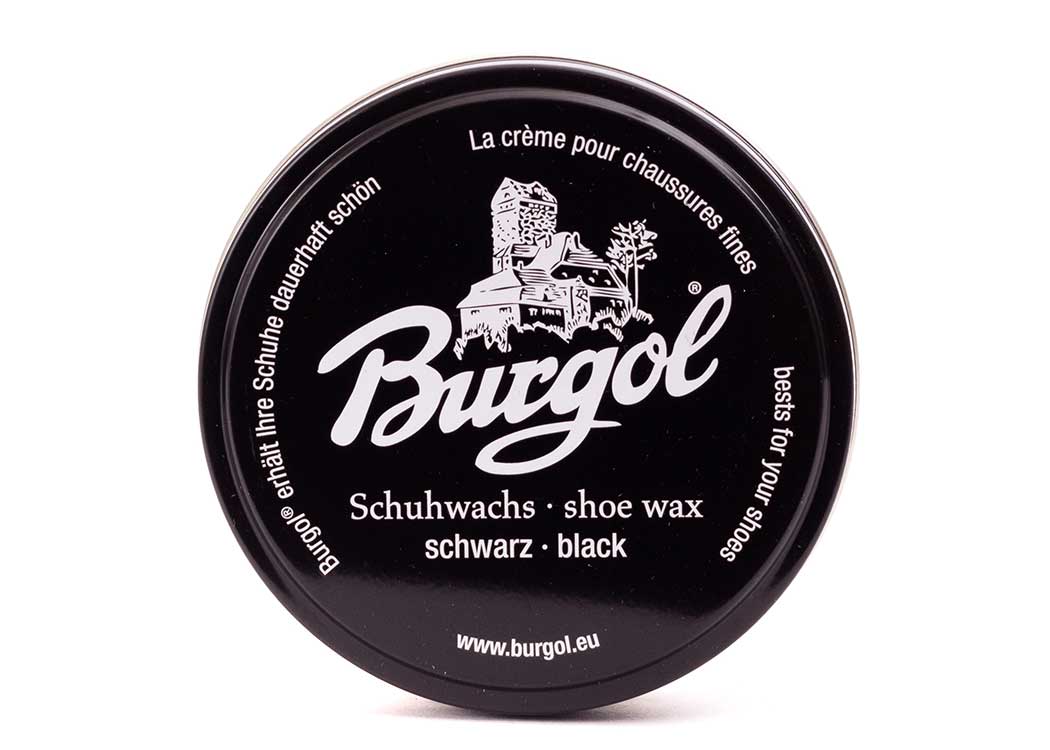 Burgol Shoe Polishing Wax
The proven Burgol Shoe Polishing Wax in an improved formula
To this day, the Shoe Polishing Wax, also known as hard wax paste, owes its first-class shine and protective properties to a recipe that has been tried and tested for decades and is constantly improved. The natural ingredients, such as the resin-free balsam turpentine oil, instead of the now very common simple test fuel as a solvent, provide an additional cleaning effect and optimum consistency. In addition, it is now free of silicone oil.
The protective and impregnating effect of the Shoe Polishing Wax, as well as its long-lasting shine, is due to the combination of various natural waxes, such as hard palm wax (carnauba wax), beeswax and other types of wax.
Due to the proportion of palm wax, Burgol Shoe Polishing Wax used to be called palm wax shoe cream. The special color brilliance is achieved by the high quality color pigments. Since the consistency has become firmer as a result, the name had to be changed from shoe cream to Shoe Polishing Wax. By the way, Burgol's Shoe Polishing Wax is now even more suitable for water gloss polishing (see also the corresponding article in the blog on shoe care online) and highly dirt repellent.
The Shoe Polishing Wax is extremely economical in use: with the contents of the 100 millilitre tin, more than 200 pairs of shoes of medium size can be maintained.
Produces a high gloss
Impregnates and protects the leather
Silicone free
100 millilitre capacity
Metal tin with screw cap
9 colours to choose from - black, dark brown, medium brown, light brown, bordeaux, blue, grey, green, red - plus colourless

Application
Apply Burgol Shoe Polishing Wax thinly with an Burgol Dauber Brush or Jar Brush according to the motto "less is more". Then smooth the surface with a shoe cleaning cloth and let it air dry for about 15 minutes. Then brush the leather for shine with a polishing brush made of horsehair. A noble high gloss polish can be achieved by the subsequent use of Fine Polishing Brushes, either from goat or yak hair.
Tipps
The Shoe Polishing Wax contains solvents and pigments. If you are not sure, always test the Shoe Polishing Wax in a concealed area.
Colour chart