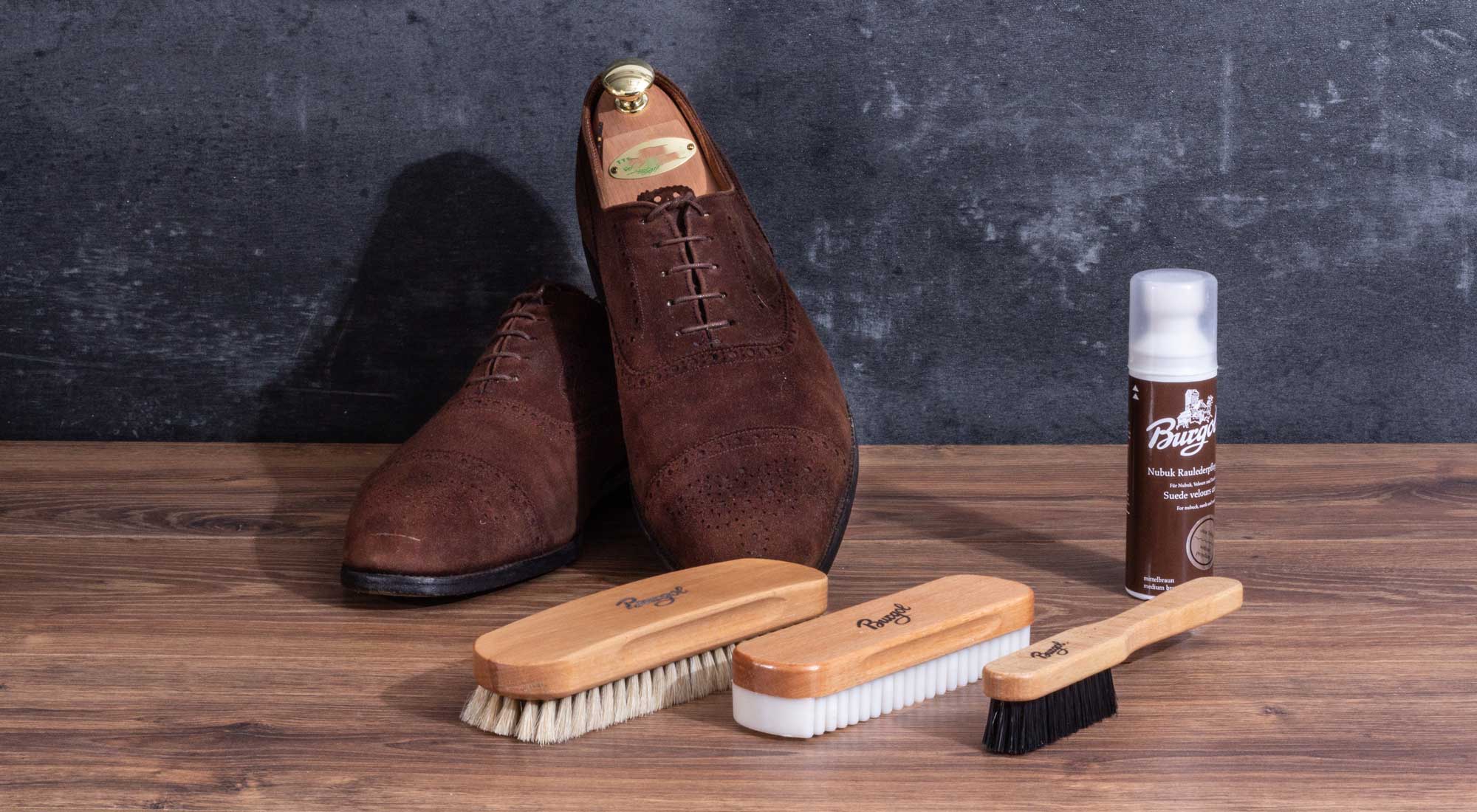 Shoecare for suede leather shoes
Suede shoes are said to be particularly sensitive. But don't worry, they are easier to care for than smooth leather shoes and less demanding in terms of shoe care.
Suede shoes include several types of leather, such as nubuck and suede.
Step 1: Brushing and cleaning shoes
If you take the laces out of the shoes, you can also reach under the area of the laces with the brush. Leave the shoe trees in the shoes.
For brushing, use the Burgol Luxury Dirt Brush. It is ideal as a dirt brush for suede leather.
If stains remain in the suede after brushing, use the Burgol Suede Brush or the Burgol Crepe Crush, depending on the type of dirt.
With the Burgol Suede Brush you can get deeper into the fine pile of the suede and brush out deeper-seated dirt. Always brush with the suede leather brush carefully to preserve the fine pile of the leather.
Dirt that sticks on the surface of the fine hairs can be removed with the Burgol Crepe Brush. The synthetic crepe draws a lot of dirt off the surface due to its friction.
Step 2: Colour refreshment and care of suede
For suede shoes, brushing is one of the most important tasks of shoe care. But after some time, depending on wearing habits and environmental influences, the colours fade and become uneven. With Burgol Suede Velours Care it is particularly easy to care for and refresh the colours of the various types of suede.
The care product is without propellant gas, can be used indoors and can be applied precisely with its sponge applicator.
Press the locking pin in the sponge applicator on a firm surface. With a little pressure, the care product gets into the sponge.
Dab the nubuck suede care product with the sponge applicator onto the suede. Do not rub the sponge on the leather. Dab the care product only onto the leather.
Let the suede shoes dry in some hours. Use the Burgol crepe brush for raising up the fine pile of the leather.
Step 3: Protect suede shoes
Suede shoes should always be impregnated. Impregnation not only protects suede leather from moisture, it also reduces the adhesion and penetration of dirt.
Impregnate your suede shoes regularly with Burgol Waterproofing Spray, depending on how often you wear them and how you use them. Our Waterproofing Spray does not contain propellant gas and can therefore also be used indoors.