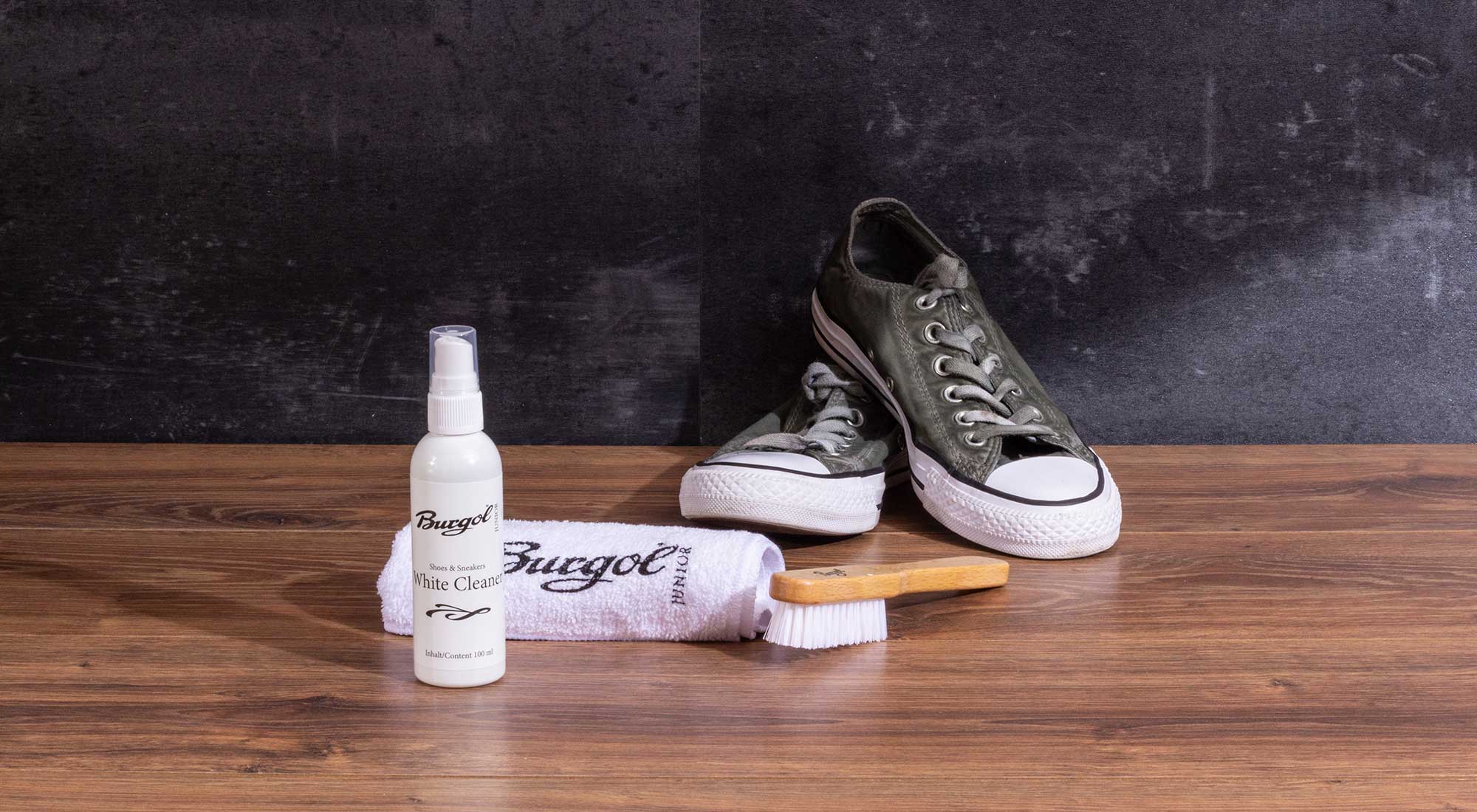 Cleaning Sneakers
Sneakers are certainly not consitered to belong to the classic shoes. By know even the wearers of classic leather shoes are no long averse to wearing sneakers in their leisure time.
For us, this is therefore a topic to which we are also giving space with an innovative product.
While cleaning of the various materials, such as canvas, nubuck leather and smooth leather, does not differ from other shoes, the smooth plastic surfaces are a particular challenge.
Especially the white edges of the sole, called midsole by sneakers, are exposed to constant abrasion and dirt. Our instructions therefore only refer to the white and smooth plastic surfaces, such as sole edges and toe caps of the sneakers.
Step 1: Preparing the  sneakers
Brush off loose dirt and dust with the Burgol sneaker brush. Water-soluble dirt can be wiped off with a moistered Burgol JUNIOR Microfibre Cloth.
Step 2: Cleaning the Sneaker midsole
Spray Burgol JUNIOR White Cleaner onto the white plastic surfaces. If the sole edges have a relief-like structure, brush the White Cleaner into the structure with the sneaker brush.
In this case the sneaker brush is not used for cleaning. It should only bring the White Cleaner into the depth of the structure. Let the White Cleaner work for about 1 minute.
Wipe powerfully the surfaces with a dry Burgol JUNIOR Microfibre Cloth.
Thanks to its special technology, White Cleaner also removes particularly stubborn dirt from smooth plastic surfaces.