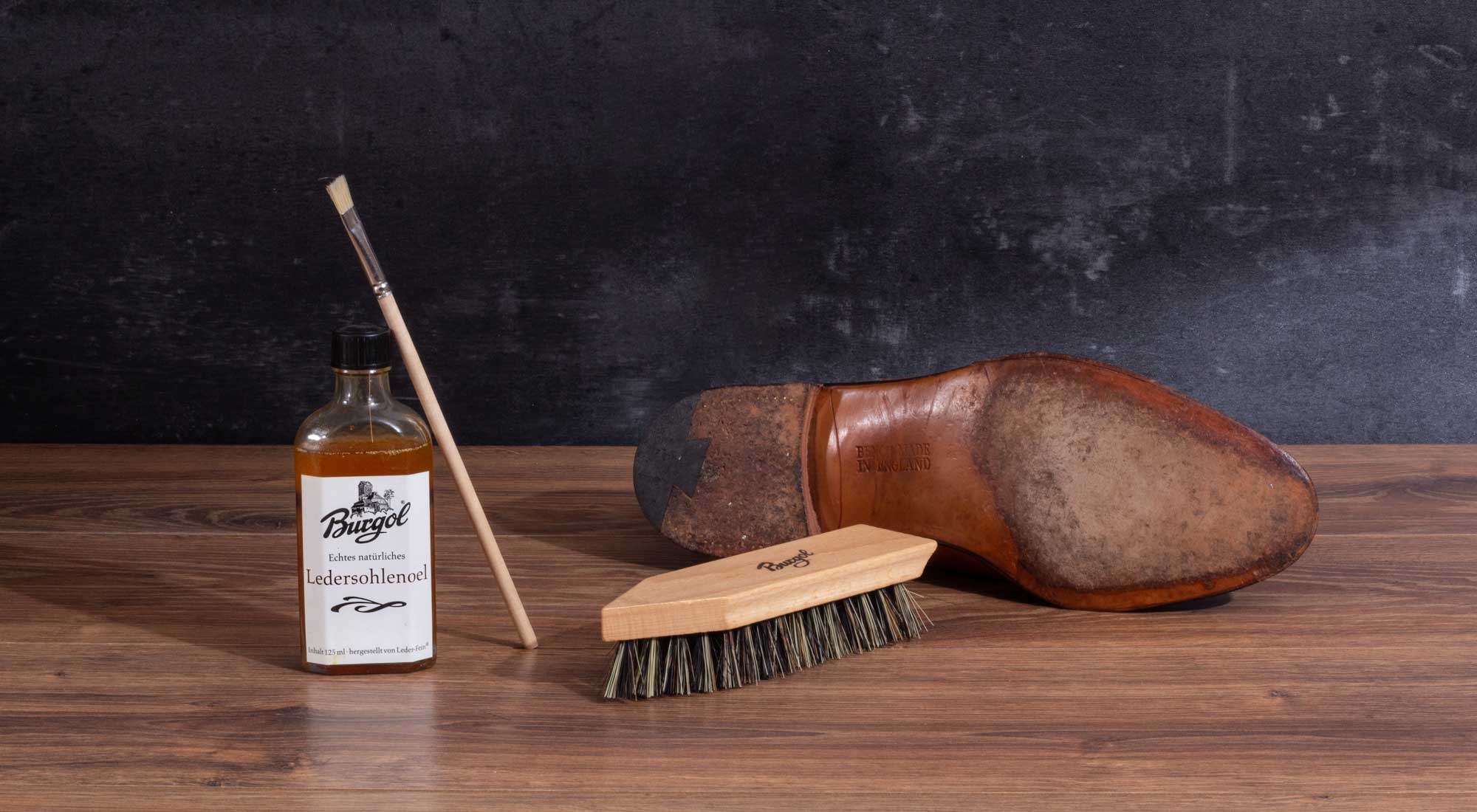 Care for leather soles
Leather soles suffer particularly from wetness, dirt and constant abrasion. Although this piece of leather is most heavily used, it rarely gets as much attention as the upper leather.
The constant absorption of water and subsequent drying of the leather sole makes the leather hard and brittle. Increased abrasion, accelerated by rough ground and small stones, is the result. The correct care of the leather sole increases the life span considerably.
Step 1: Cleaning leather soles
The leather soles are cleaned before care. Brush the leather soles vigorously with the Burgol Dirt Brush: With the pointed end you can remove dirt that has stucked in the angle between heel and leather soles.
If small stones have pressed themselves into the leather soles, remove them carefully with a pointy knife. Do not pierce the leather sole, only place the tip on the small stones.
Step 2: Leather sole care
New leather soles are only cared for after one or two days of wear. The leather becomes more dense when worn and the sole is slightly roughened to absorb the care product.
Use a brush to apply Burgol Leather Sole Oil over the entire surface. Be especially careful at the edges to prevent oil from getting on the upper leather.
Do not saturate the leather sole with the oil. Otherwise it will pull through the leather sole and the seams into the upper leather and leave oil stains. One coat of leather sole oil is sufficient.
Sole oil can damage glued areas. Therefore do not use leather sole oil on very thin glued leather soles.
The shoes with the oiled leather soles should be left for one day, either on their side or on an airy surface.
Step 3: Regular care of the leather soles
You do not need to treat the leather soles with the leather sole oil every few weeks. Depending on how often you wear them and the weather, one treatment in spring and autumn is sufficient.