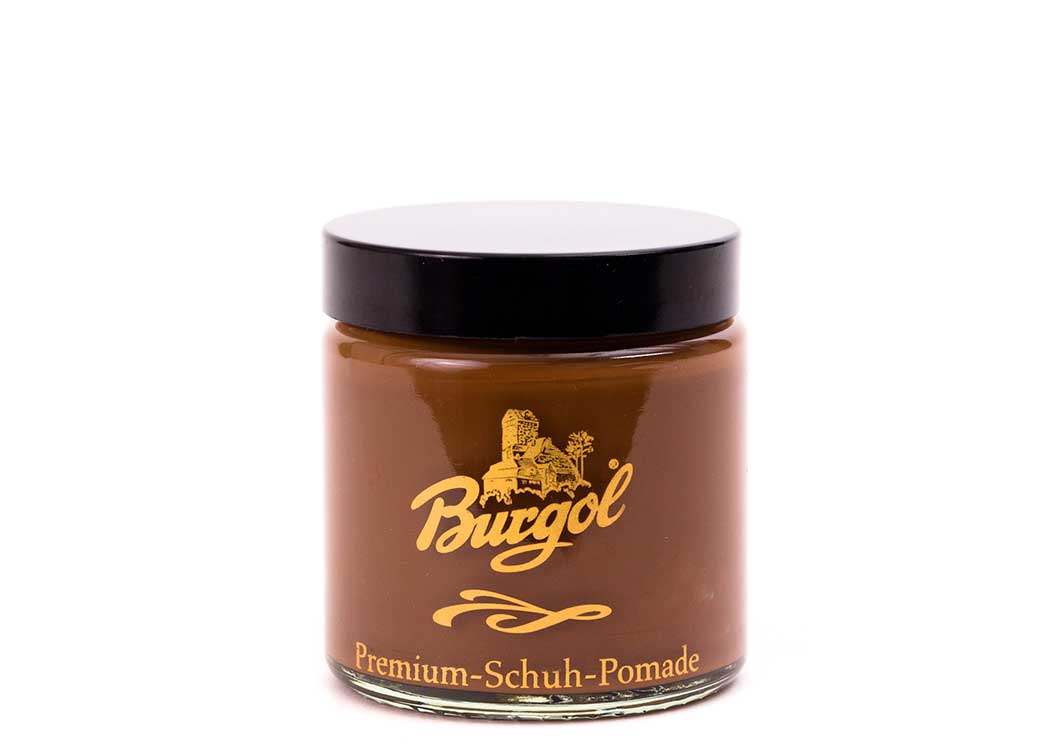 Burgol Shoe Pomade Cream
Shoe Pomade – the shoe cream from Burgol
The Burgol Shoe Pomade Cream provides intensive colour refreshment and deep leather care.
It offers all the advantages of a high-quality emulsion cream and is ideally complemented by Burgol Shoe Polishing Wax. The Shoe Pomade Cream contains the finest natural colour pigments, natural waxes and naturally moisturising oils. These give the Shoe Pomade Cream its unique character and a noble, silky shine. It is available in 14 colours and colourless (see colour chart Shoe Pomade Cream).
In autumn 2009 Rainer Ersfeld developed the Burgol Shoe Pomade Cream in collaboration with a laboratory in Germany and a factory in France. After a 16-month test phase with several professional shoe polishers, retailers and many tests, it was launched at the beginning of 2011. Countless shoes have been cared for with the Shoe Pomade Cream in recent years.
Refreshes the colours
Nourishes and cares for the leather
Gives a silky shine
With natural ingredients
100 millilitre capacity
Glass jar with screw cap
14 colours to choose from - black, dark brown, medium brown, light brown, hazelnut, chestnut, cognac, bordeaux, blue, red, green, grey, beige, opaque white - plus colourless

Application
Apply the Shoe Pomade Cream thinly with a Burgol Jar Brush - true to the motto "less is more". Then smooth the surface with a cotton cloth.
After a few minutes, the upper leather of your shoes can be polished with a horse hair brush from Burgol. We recommend using a horse hair brush with a visible hair length of 22 or 30 millimetres. Burgol shoe wax is used for high gloss, protection and impregnation after the Shoe Pomade Cream.
Tipps
The finest shine is obtained after polishing with the horse hair brush by using a fine polishing brush, such as a yak hair brush or goat hair brush.
Colour chart