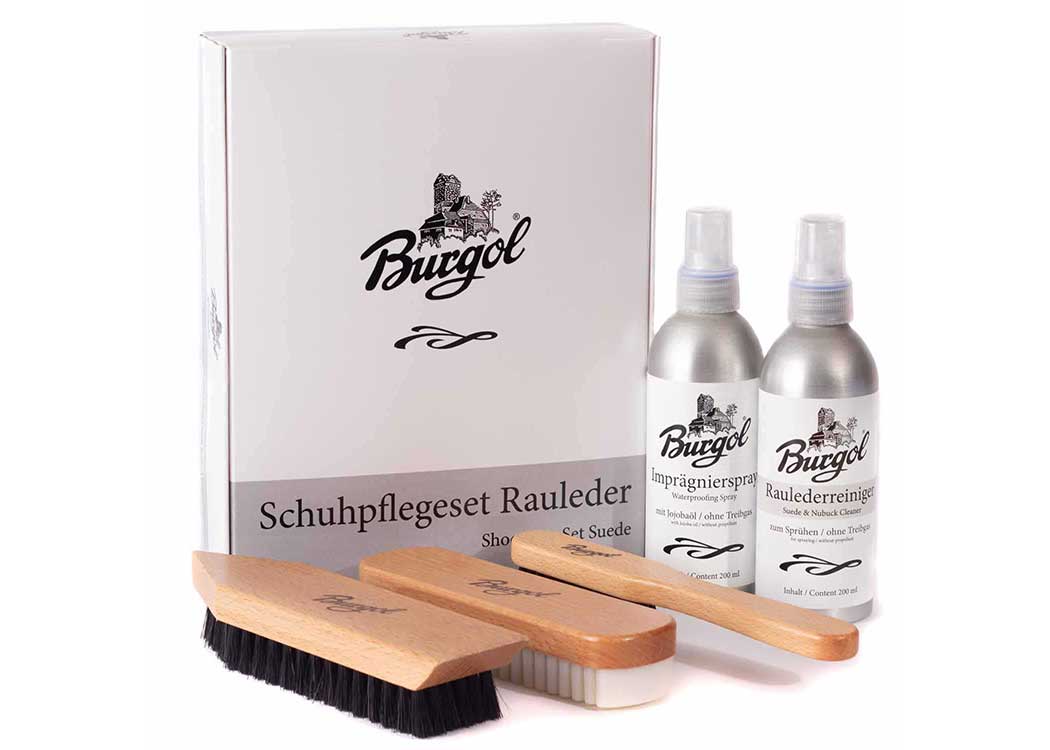 Burgol Shoe Care Set Suede
The right shoe care and matching shoe brushes for suede shoes in one set
With the right care and the right products, suede shoes can be worn in any season. Our shoe care set suede is packed in an attractive box. For your new shoes , but also as a gift for friend of good shoes.
Content
1 Burgol Suede & Nubuck Cleaner
1 Burgol Waterproofing Spray
1 Burgol Luxury Dirt Brush
1 Burgol Suede Brush
1 Burgol Crepe Brush

Shoe care instruction - Shoecare for suede leather shoes
Brush out shoe leather
Brush loos dirt and dust out of the suede with the Burgol Luxury Dirt Brush.
Carefully brush out deeper dirt with the Burgol Suede Brush.
Remove dirt that sticks firmly to the surface with the Burgol Crepe Brush.
Wet Cleaning if necessary
You should only wet-clean suede shoes when brushing out is no longer sufficient.
Spray Burgol Suede & Nubuck Cleaner generously onto the suede leather and leave it to work for a few minutes. Take up some water with the Burgol Luxury Dirt Brush and brush out the shoes wet. Dry the brush with a cloth so that the wood does not swell. Let the shoes dry at room temperature with shoe trees inserted.
Care and protection
Spray the suede shoes evenly with the Burgol Waterproofing Spray and allow the shoes to dry for 15 minutes. Burgol Waterproofing Spray contains jojoba oil which cares for the leather at the same time.
Colour refreshment
If colour refreshing is necessary, apply the optionally available Burgol Suede Velours Care in the corresponding colour before impregnating.