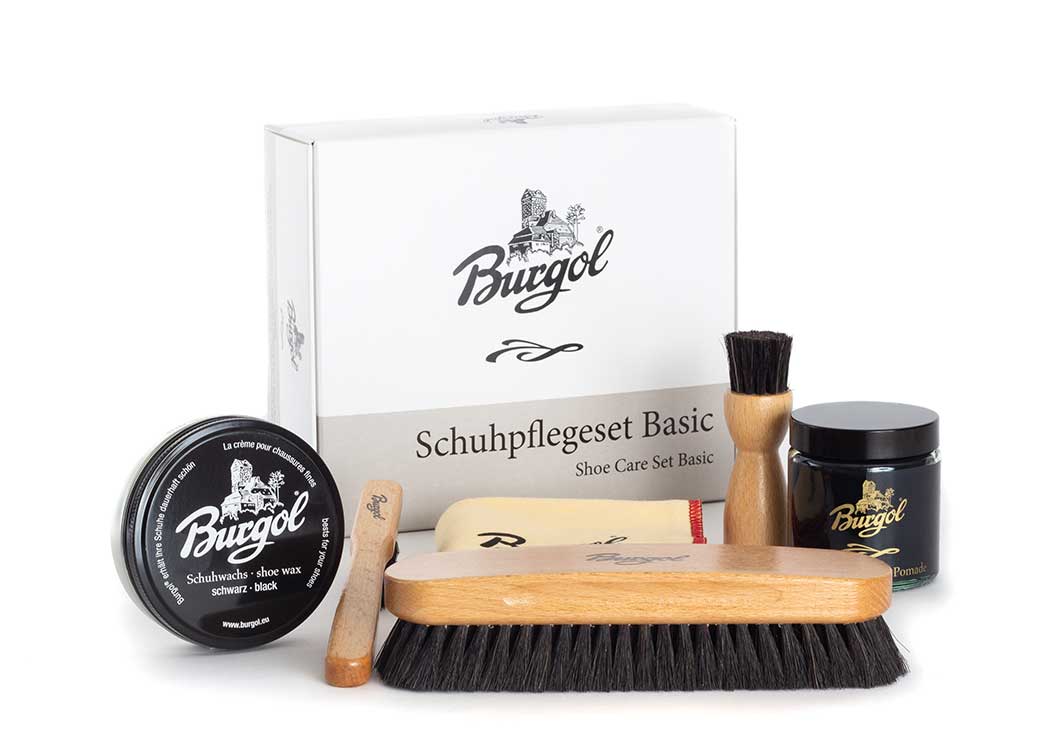 Burgol Shoe Care Set Basic
Selected products for perfect shoe care
That's all you need to get started with good shoe care. With our Shoe Care Set Basic, you have everything you need to keep your shoes in excellent condition.
For your new shoes, but also as a gift.  You can choose from 10 colours to match your new shoes. With the attractive packaging, it is the ideal gift for friends of good shoes.

Contenz
1 Burgol Shoe Pomade Cream
1 Burgol Shoe Polishing Wax
1 Burgol Brush Horse Hair
1 Burgol Dauber Brush
1 Burgol Jar Brush
1 Burgol Premium Polishing Cloth
Colours: Colourless, black, dark brown, medium brown, light brown, bordeaux, red, blue, green or grey.
Black with black brushes, all other colours with light brushes.

Shoe care instruction - Shoecare for smooth leather shoes
Care for shoe leather
Apply the Burgol Shoe Pomade Cream first to less accessible areas, such as decorations and the narrow areas between the upper leather and the edge of the sole, by  using a Burgol Jar Brush.
On smooth surfaces, apply the shoe pomade with the Burgol Polishing Cloth. The cloth allows to apply the shoe pomade more sparingly and to rub in a little.
After a few minutes you can polish the shoes to shine with a Burgol Horsehair Brush. Shoe Pomade Cream produces a silky shine.
Shine and protection for the leather
While the Shoe Pomade Cream is used to care for the leather in the depth, Burgol Shoe Polishing Wax provides a high gloss and the wax layer provides additional protection against the penetration of rain and dirt.
Apply shoe wax sparingly to the narrow areas between the upper leather and the edges of the soles using the Burgol Dauber Brush. Apply the shoe wax to the smooth surfaces with the Burgol Polishing Cloth. Let the shoe wax dry for a few minutes. Polish your shoes to shine with the Burgol Horsehair Brush.
Re-Polishing and subsequent shoe care
When the shine fades, polish your shoes with a Burgol Horsehair Brush. Once the wax layer on the leather has worn off and can no longer be re-polished, apply a thin layer of Burgol Polishing Shoe Wax again and polish the shoes to shine as described above.
You do not need to treat your shoes every week with shoe pomade cream and shoe wax. Depending on how often you wear your shoes and on environmental influences, every few weeks is sufficient. The leather will not dry out that quickly.