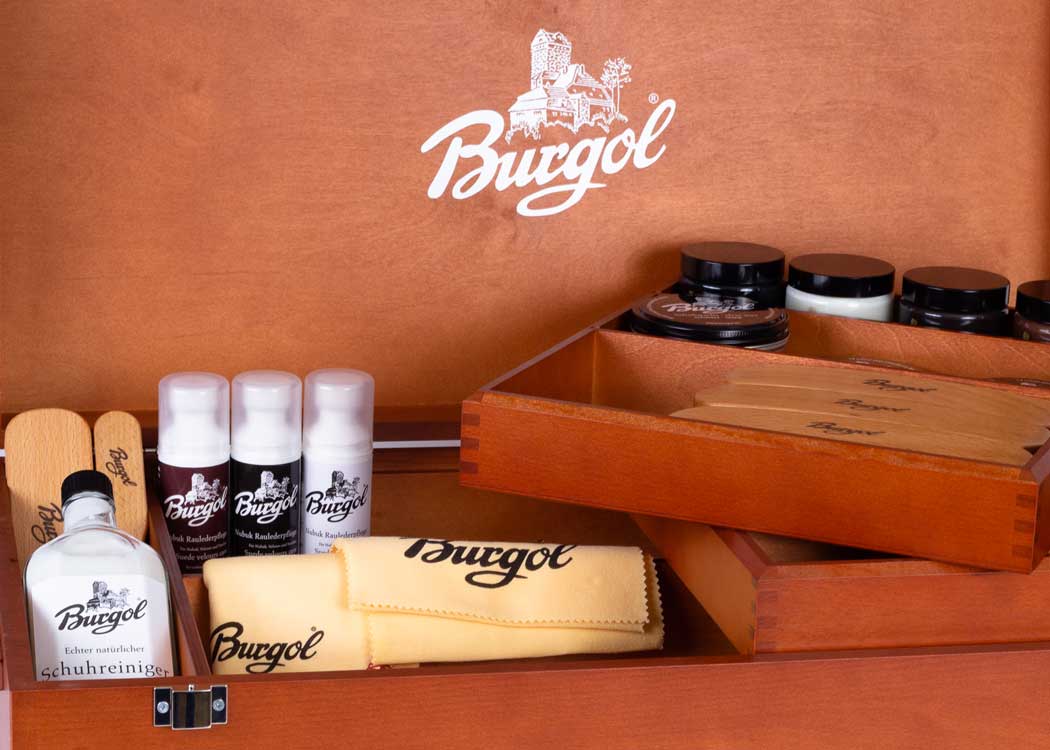 Burgol Shoe Care Box
For lovers of shoe care we have created a shoe care box with lots of space. Finally, an end to multiple boxes, cartons or drawers where shoe care products lie around in a mess.
Dividers on the base guarantee order. Two removable trays allow for individual layout.
Made in Germany
Our new shoe shine boxes are completely handmade in Germany. The closeness to our producer allows us to coordinate many details and to manufacture in highest quality.
We offer the shoe care box empty for your own individual assembly.
Much more interesting is the version with content. You have a significant saving compared to the individual prices of the products. We have equipped the box with the experiences from the practice.
Product details
Material: Beech wood
Colur: light brown or dark brwon
Hardware: Metal
External dimensions including side handles and hardware:
Width 70 centimetres
Depth 38 centimetres
Height 16,5 centimetres
Shoe care box with content
4 x Burgol Shoe Pomade Cream (colourless, black, dark brown, light brown)
4 x Burgol Shoe Polishing Wax  (colourless, black, dark brown, light brown)
1 x Burgol Shoe Cleaner
3 x Burgol Suede Velours Care  (black, dark brown, colourless)
3 x Burgol Brushes Horse Hair  22 mm (2 x light, 1 x black)
4 x Burgol Jar Brushes (3 x light, 1 x black)
4 x Burgol Dauber Brush (3 x light, 1 x black)
1 x Burgol Suede Brush
1 x Burgol Crepe Brush
1 x Burgol Polishing Cloth Super Gloss
1 x Burgol Premium Polishing Cloth