The Yak Hair Brush in detail
The knowledge about manual tufting, the Burgol Fine Polishing Brushes and in particular those made of yak hair, is not new, as it is based on traditional craftsmanship and years of practical experience.
But we have never collected it in this form before and don't want to withhold it from our readers.
The brush woods are only produced from local beech wood in the Bavarian Forest. Out of  these, experienced brush makers produce high-quality brushes, which are further enhanced by the use of very special hair.
These hairs come from high land yaks, which live mainly in Tibet on over 4000 meters height. During the finishing process, the hiar is first washed up to eight times and sorted according to colour, very similar to the wool of the cashmere goat, and only then processed in our southern Baden production plant in the Upper Black Forest. No dyed hair is used at all.
Yak hair is, compared to the goat hair, somewhat stronger and curly, but just as soft as the goat. Stretching or smoothing does not work, which was proven in a two-month practical test. Therefore the length of the hair should be slightly less than 20 mm in the optimal case, otherwise the fine polishing brush has no stand and is useless for a fine polishing. In addition, there is also the reason why our brushes cannot be drawn in by machine, but have to be tufted manually.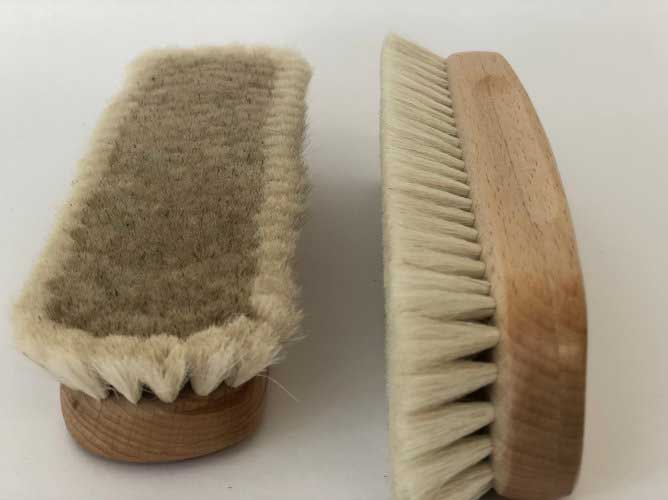 Why is the yak hair brush now called a fine polishing brush?
Yak hair - also goat hair - is one of the fine hairs. But how do the price differences for fine polishing brushes justify themselves? The manual manufacturing costs are more than twelve times higher than those of a machine-made brush. The price for manually tufted brushes is determined by the number of holes to be filled in the brush body, the type and quality of the wood (domestic vs. Eastern European or overseas goods) and the production site (domestic vs. Eastern European or Chinese goods). Furthermore, it is more complex to draw two different types of hair into one brush. The time required to complete a single brush is 40 minutes and there are only 2 brush makers in production who have the skill and experience to tuft such brushes.
The advantage of yak hair brushes - and this has been confirmed by professionals such as shoeshineboy Peter Borggreve from Berlin and Valentin Zamora Lopez since 2006, who polish more than 20 pairs of shoes a day at the KaDeWe in Berlin - is that the yak hair is very dense with the same number of feed holes. For this reason, a high gloss polish is achieved much faster and more effectively with the yak hair brush.
Burgol's fine polishing brushes are a shoe care tool that can be inherited. The brushes of these professional shoe polishers have been in use for more than 10 years and have cared for more than 50,000 pairs of shoes.