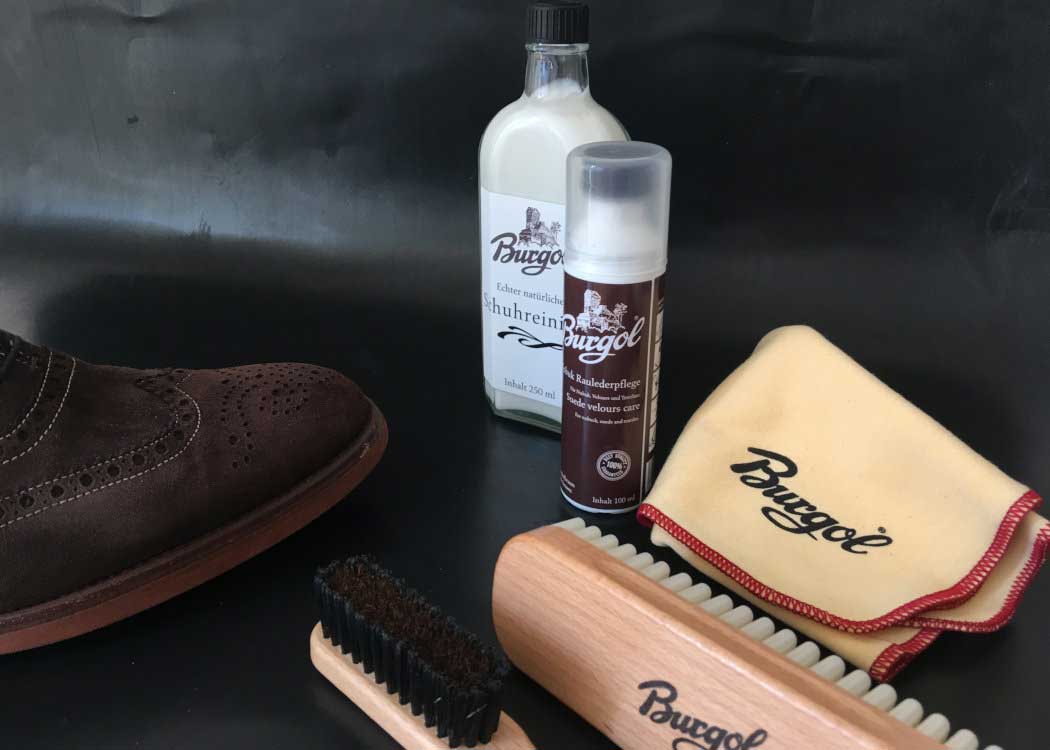 Care for suede and nubuck shoes with Burgol
Suede shoes are traditionally stowed in the cellar or at the storehouse as soon as the first autumnal gusts bring rain.
At the latest, however, in cold winter temperatures with snowfall and the risk of having to remove salt edges from the shoe, they are hardly used any more. It is only in spring, with its longer days, more sunshine and the associated invitation to take a stroll, that they are remembered.
The very light-hearted, yet noble-looking suede shoes first want to be brought into shape, because a dusty, possibly even stained and unbrushed pile can quickly take on shabby features. Such a reactivation for comfortable walks, evening restaurant visits or business ventures is much easier than most shoe lovers with less experience in suede shoes think. The following article is recommended to all old hands in this field of shoe care as a souvenir.
Two special Burgol shoe brushes - but first and foremost the Crepe Brush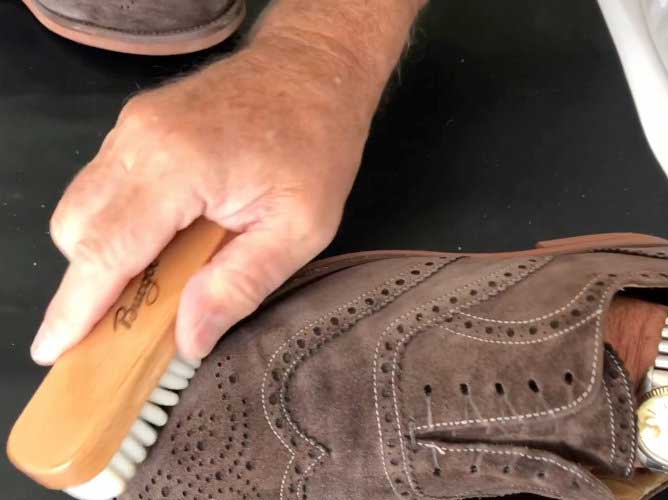 The Burgol Crepe Brush is used to first remove any dust and other superficial dirt from the suede shoe. No shyness is appropriate, because with strong hand movements the lamellas remove best, which does not belong on a maintained shoe. Often a lot has already been achieved after this first step of shoe care and the suede shoe already looks a bit fresher again.
The Shoe Cleaner against heavy soiling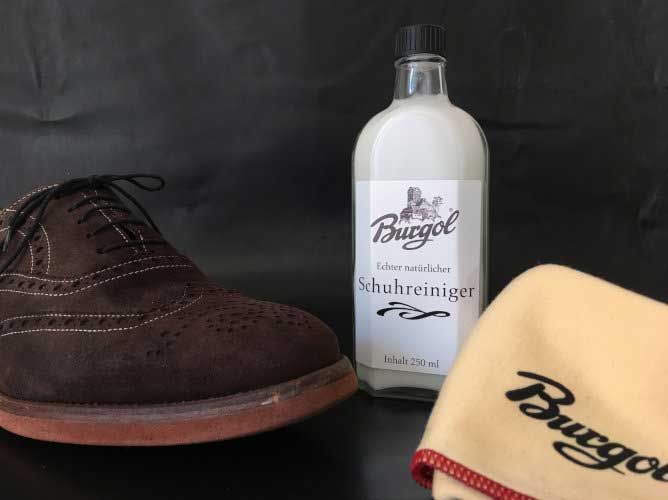 If there are still stains left on the upper leather that are not due to colour bleaching or abrasions, for example from sauces, we recommend washing it with the Burgol Shoe Cleaner. This is first placed in a bowl and mixed with water in a ratio of 1:1. The resulting milky, unobtrusively fragrant solution is applied to the complete shoe with a sponge or lint-free shoe polishing cloth, such as the Burgol Premium 40 x 40, and massaged in. This is followed by vigorous brushing, which is best done by hand with an application brush. At the end the suede shoe is simply left to dry. It is important that the shoe cleaner is not washed out again. This treatment should also have given the more stubborn stains the rest.
Suede Velours Care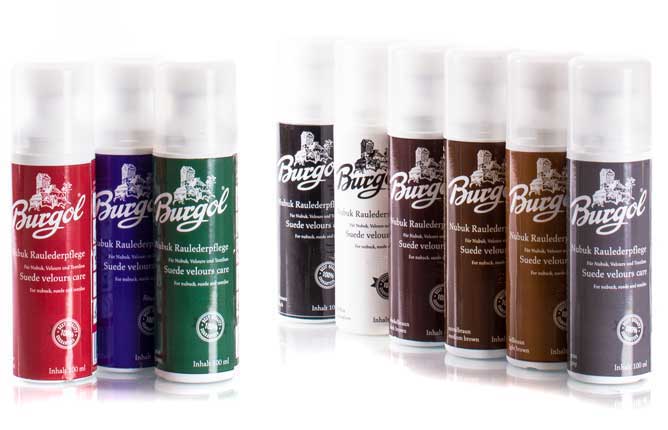 Now the colour build-up begins, which then - carried out at regular intervals - serves as a refreshment. This is the purpose of Burgol's Suede Velours Care. There are 8 colours to choose from - black, dark, medium and light brown, grey, blue, red and green. The bottles each contain 100 millilitres. At each of their heads there is an applicator sponge, by means of which after a short, heartfelt shaking the liquids are well dosed and evenly spread on the shoe. After about 20 to 30 minutes of drying, this procedure can be repeated in case of doubt. Normally, however, this is not necessary. In the end, the Nubuk rough-leather care does not only give the treated shoe a strong colour, but also impregnates it, which protects it from weather influences as well as from fading again too quickly.
The Suede Brush with gentle bronze wire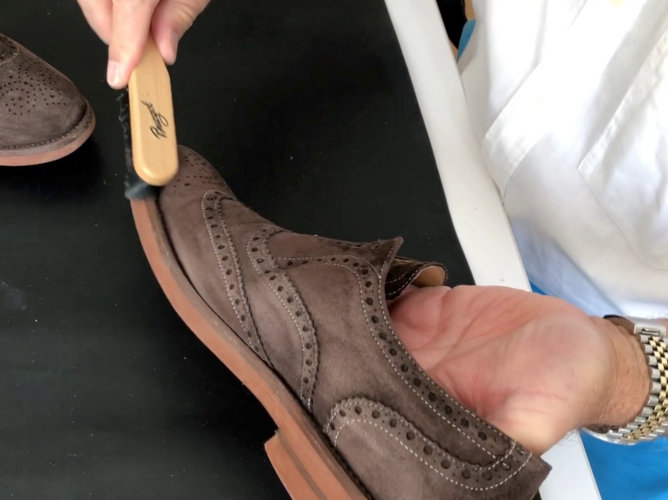 There are some suede brushes on the market, but only Burgol's is equipped with bronze wires instead of brass wires. This allows the pile to be gently and finally straightened. This is done as shown in the following video. The use of the Suede Brush can also be arranged before the application of the Suede Velours Care.
Spring can now come for this suede leather shoe
Equipped and refreshed in this way, every suede shoe can be seen in spring and summer.