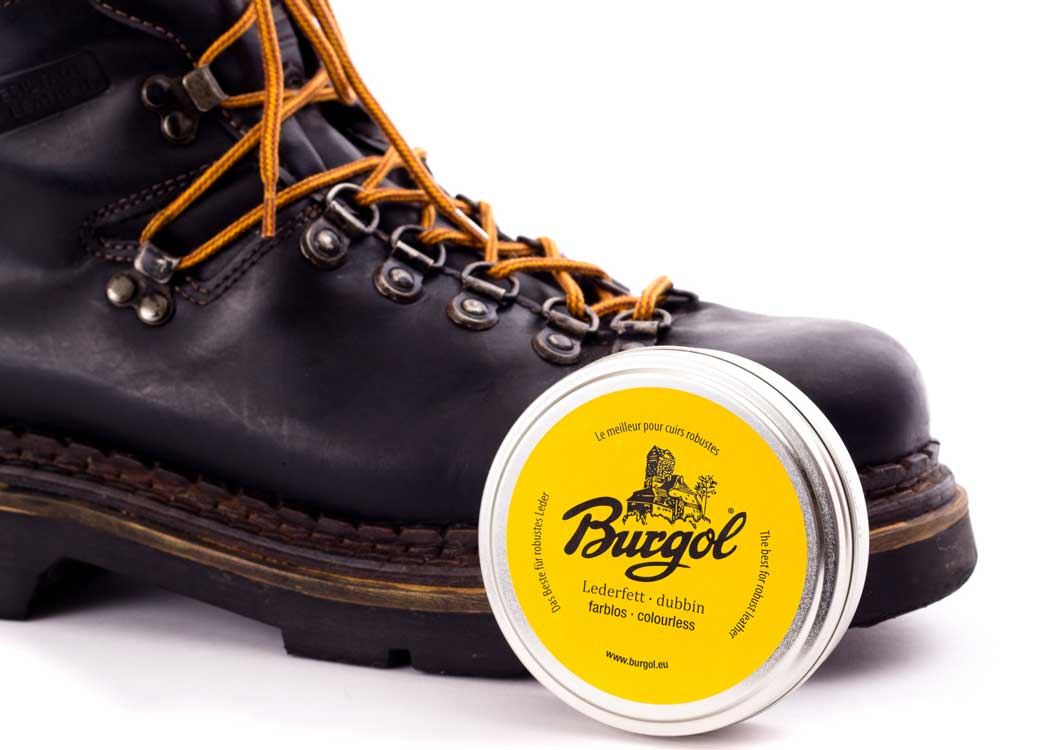 Shoe care with Burgol Dubbin
Hiking and mountain hiking are currently booming.
While enjoying nature, walking and making new fiendships, the equipment should function perfectly and sit comfortably. In addition, most of the items on tour are expected to be durable, as no one wants to spend hundreds of euros to have to buy again after the first longer or more demanding trip. Furthermore, sustainability and resource conservation are important for nature lovers.
This regards especially hiking boots, -even resoling becomes more popular – After all, everyone knows the advantages of a well worn-in shoe with an inner sole that adapts perfectly to the foot, is cpmfortable and does not cause blisters.
To obtain such a valuable pair of shoes, regular cleaning and care is necessary, especially for rough footwear. Hiking shoes, boots or whatever you like to call them are subject to extremely stressful conditions from the very first step on. On the one hand, wind, rain, snow, dryness and the sudden heat of a cosy campfire maltreat the upper leather. On the other hand, sweat inevitably develops from the inside. The soles are also exposed to heavy impacts on uneven, muddy and hard surfaces.
And that's where Burgol Dubbin comes in. It is exclusively designed for robust, pre-oiled or pre-greased leather. Normal smooth leather shoes, suede shoes as well as clothes of daily use, on the other hand, can loose colour, shine and stability or become sticky due to the moisturising effect. In case of doubt, the manufacturer should always be consulted before use. For sturdy leather shoes - including motorcycle, biker and work boots - Burgol Dubbin offers all the properties for ideal shoe care: impregnation for weather resistance, protection of the leather against breakage, cracking, for continuous suppleness and breathability. Furthermore, we were even able to abondon "Juchte" (= birk tar oil which is harmful to health and environment) from our new Burgol Dubbin!
Application of Burgol Dubbin
Economical, resource-conscious people will be pleased that the Dubbin has o be applied only in small portions. With the 100 ml yellow labeld tin, for example, a whole range of robust shoes can be cared for and maintained. Which steps must be followed?
Very simple:
First remove the shoe laces.
Coarse dirt is best cleaned from the upper leather using a dirt brush. Their hard coconut fibres are even suitable for removing crusts of dirt without great effort. The pointed end of the brushwood can also be used to remove stones from the sole profile.
A 15 mm hores-hair brush can now be used if the shoe requires thorough pre-cleaning.
The Burgol Dubbin should be applied thinly with a cloth, as mentioned above.
For the shole shaft angle or edges a douber brush is advisable.
Finally remove excess Dubbin with a soft cloth.
Like this your hiking boots will stay with you for a long time - enjoy your next adventure!