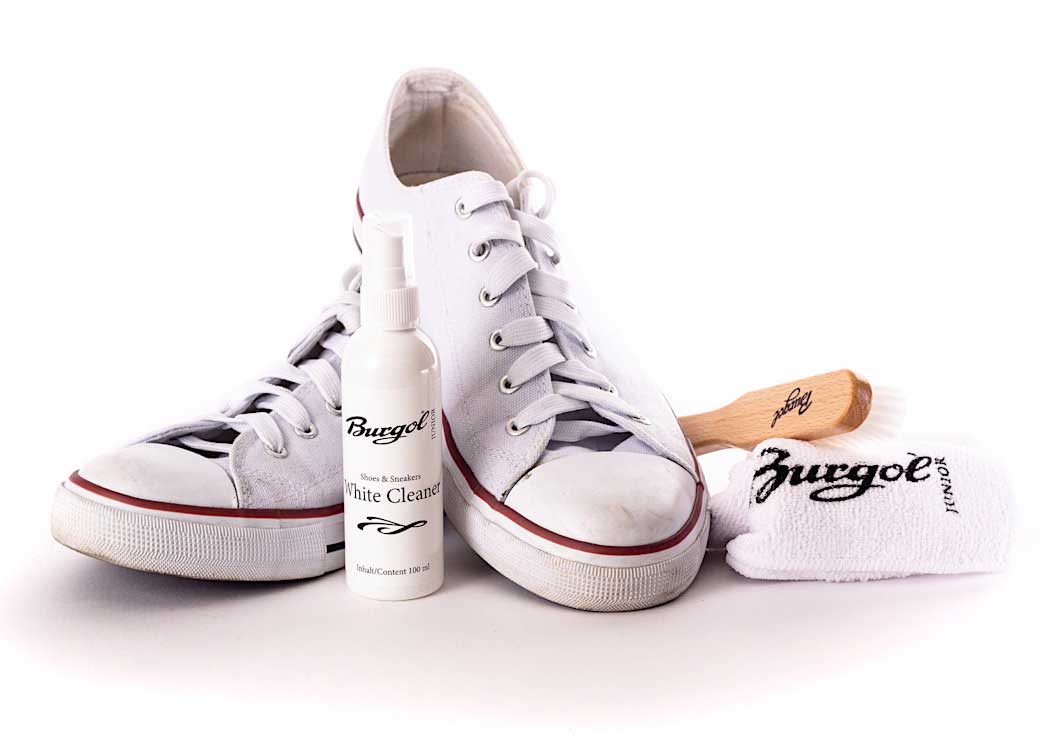 The new product line from Burgol - JUNIOR
Since many years Burgol stands for classic and traditional shoe care. Apart from welted leather shoes, the number of materials and shoe types used has steadily increased in recent years.
While trends in shoe fashion come and go, over time some shoe types have developed into true classics. The latest classics in the new shoe history have now also arrived as casual shoes with the wearers of high-quality shoes.
Burgol will dedicate its new product line Burgol JUNIOR to the new classics. Right from the start, Burgol is launching an innovative cleaning product, which is the solution for soiled smooth sneaker surfaces.
Burgol JUNIOR White Cleaner
While previous cleaners for sneakers try to dissolve impurities chemically, the Burgol JUNIOR White Cleaner goes a new and more effective way:
The cleaner works completely physically. It slides between the impurities and the smooth surfaces of sneakers and other shoes made of comparable materials.
Tiny bubbles of 200 nanometers in the liquid oscillate up to 8,000 times per second and act like micro earthquakes under the dirt. This simply lifts it off the surface and makes it easy to wipe off.
This approach to physical cleaning is particularly environmentally friendly and solvent-free. Thus, our new cleaner does not need any warnings according to the CLP regulation.
Außerdem ist er "Made in Germany" in Kooperation mit einer westfälischen Forschungsschmiede entwickelt worden.
In addition, the BURGOL JUNIOR White Cleaner is skin-friendly even according to Dermatest and has received the Dermatest seal "Very good" in 2019.
The cleaning is very easy and fast. The cleaner is sprayed on, the "micro earthquake" has 60 seconds time to remove the dirt from the substrate. The surface is wiped with a special microfibre cloth and the sneakers are clean. The Microfibre Cloth from the same product line has a particularly supportive effect.
For relief-like structures in the surface, the cleaner is additionally brought into the depth of the structure with the Burgol Sneakers Brush.
More information on: junior-white-cleaner.html sowie auf dem Dermatest certification
Video/YouTube direct link: Burgol JUNIOR Instruction
Results of first field tests
Some first, impressive results regarding the effectiveness of the Burgol JUNIOR White Cleaner can be found at sattelschuhe.de