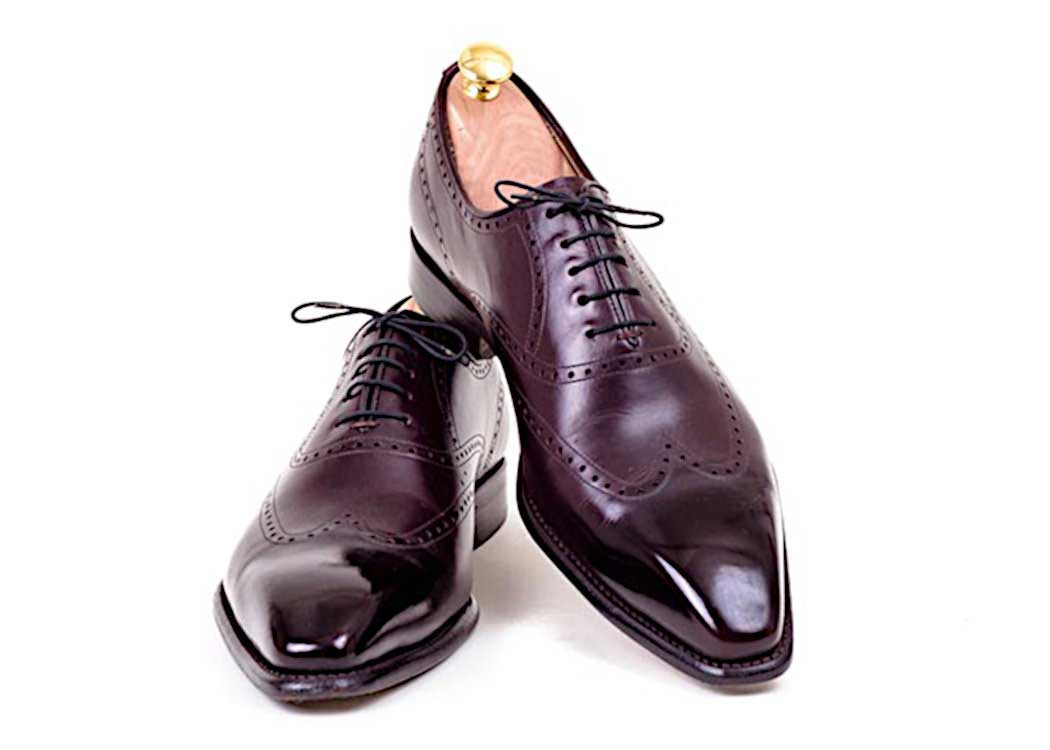 Mirror shine with Shoe Polishing Wax for gent's shoes
The sunshine in summer can be cruel to shoes. Any discoloration, dirt and scratches are then clearly visible. But it also offers possibilities to present gent's shoes in a particularly good light.
In addition to a classic shoe polish with a Fine Polishing Brush, mirror or water shine polishing is particularly suitable for this, which can help shoes made of smooth leather to achieve an unheard-of shine as well as preparing them for the next shoe care. We will explain step by step how such a masterpiece of professional shoeshine art can also be achieved by laymen.
Preparations
In addition to a pair of shoes, Burgol Shoe Polishing Wax in a suitable colour or a slightly darker shade is needed. Moreover, we recommend a Polishing Cloth Super Gloss in the size of 15 x 60 cm, optimized for shoe polishes of all kinds. A little water, e.g. in a small bowl or directly in the lid of the opened Shoe Polishing Wax tin, completes the basic equipment for a water gloss polish. Shoe brushes are not required.
The shoe to be polished should at least have shrunk a little, which ideally has already helped it to get some creases. Moreover, it should have been cleaned with shoe wax from time to time. With new footwear, on the other hand, a water shine polish can become a very tedious subject until it may not succeed at all.
For elaborate colour effects, blue Shoe Polishing Wax on black upper leather or slightly darker shades on a lighter background, e.g. dark brown shoe wax on a light brown toe, are used. In addition, a water gloss polish is often applied exclusively to the front part of the shoe, the toe cap as well as to the edges of the shoe. The reason for that does not necessarily lie in the interesting contrast between the matt and shiny areas of the shoe, but rather in the fact that the recessed areas remain hidden from view anyway due to overhanging trouser legs and therefore do not have to be worked on more extensively.
Polishing with water
Take at least half an hour. Especially beginners in the field of the water shine polish will need some time to achieve success, even if the last improvement of the recipe of Burgol Shoe Polishing Wax much has been done for such exclusive shoe polishes.
First, the Polishing Cloth Super Gloss is tightly wrapped around one, better two fingers (typically index and middle finger), so that a smooth surface without folds is created on theirs inside.
Afterwards, Shoe Polishing Wax is removed from the opened can extremely sparingly - actually only selectively - and the tip of the shoe, for example, is rubbed with it. Before it had time to take effect, a little water is added to this spot. Now, follow small circular movements without much pressure until a first noticeable shine as well as a smooth feeling is achieved. Then the procedure has to be repeated several times, always paying attention to the wafer-thin film of water between the polishing cloth and the wax layer. As soon as the observer can almost mirror himself in the treated part of the shoe, the water gloss polishing has succeeded!
The result of a water or mirror shine polish
Practice always makes perfect, and of course this also applies to water gloss polishing! However, those who have difficulty at the beginning should not give up immediately, because a completely executed water shine polish is a feast for the eyes and guarantees many astonished or envious looks. If in later runs additional colour effects dark on light or blue on black are achieved, it will quickly become clear that the effort for the mirror shine polish with the Burgol Shoe Polishing Wax definitely paid off.