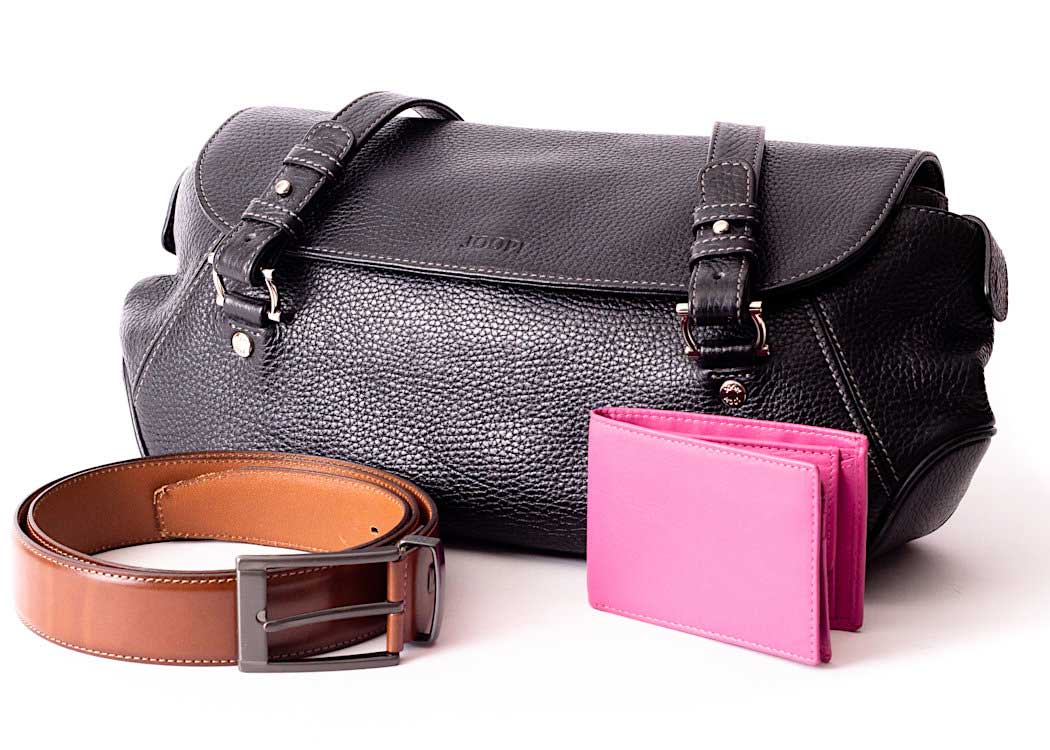 The Leather Milk also for bags, cases and belts
Do you wear belts not only for your business outfit, but also at home, in your leisure time and even on holiday? Handbags are your pride and joy? No matter which format, it is never only about simple functionality, because they must be presentable and underline your type!
And when you bring out your mobile devices, do they dress in covers or cases, which are supposed to protect, but, at least as important, to impress, to be chic, as well? The use of high-quality materials is always decisive, what has led you to leather. Unfortunately, leather seldom remain as beautiful as it is shown exemplarily here, when used on a daily basis. But what measures can be taken against fatty areas and other impurities? The answer in many cases is "Burgol Leather Milk".
Treating leather without specific care products
But why not just clean it with water? Of course, surficial dirt, dust and the like can easily be removed so. Fluff-free textiles, for example the large-format Premium Polishing Cloth 40 x 40 cm, are recommended for corresponding work. However, this method is of little use for dirt particles that have already penetrated the pores of the leather with sweat and grease from the hands. If you are now thinking about the usage of general cleaning agents for stain removal, the only and urgent advise we can give, is: Take distance from them! Leather needs to be nourished, but such products cannot accomplish that. Possible consequences would be discolouration as well as tearing or breaking of the leather.
Coming from shoe care
When shining shoes and in the field of shoe care, every shoe care product must pass exactly this hardness test: After all, the upper leather of shoes is exposed to many times more than belts, bags, cases etc. to the strains of the environment, namely sun, wind, rain, body salts, dust and various chemical compounds, which are produced among other things by professional street and floor cleaning. If a product can still effectively protect shoes from drying out and bleaching under such conditions and at the same time gently remove traces of use, then one can rightly speak of an extraordinary shoe care product. The Burgol Leather Milk meets this requirement.
The Burgol Leather Milk
This leather care product was developed for smooth and embossed leather types as well as braided leather, it removes dirt from the pores of the leather and at the same time nourishes the leather. It is applied from a plastic bottle to a shoe cleaning cloth, then massaged into the areas to be cleaned with circular movements. In order to test the effect on the material to be treated, it is first only used selectively on a concealed area. After a short time, the Burgol Leather Milk is completely absorbed into the leather, so in contrast to the Premium Shoe Pomade Cream or the Shoe Polishing Wax it can also be used for leather products, which are in direct contact with the skin or other garments. Therefore, it is suitable for the care of belts, handbags, cases etc. made of high-quality leather.