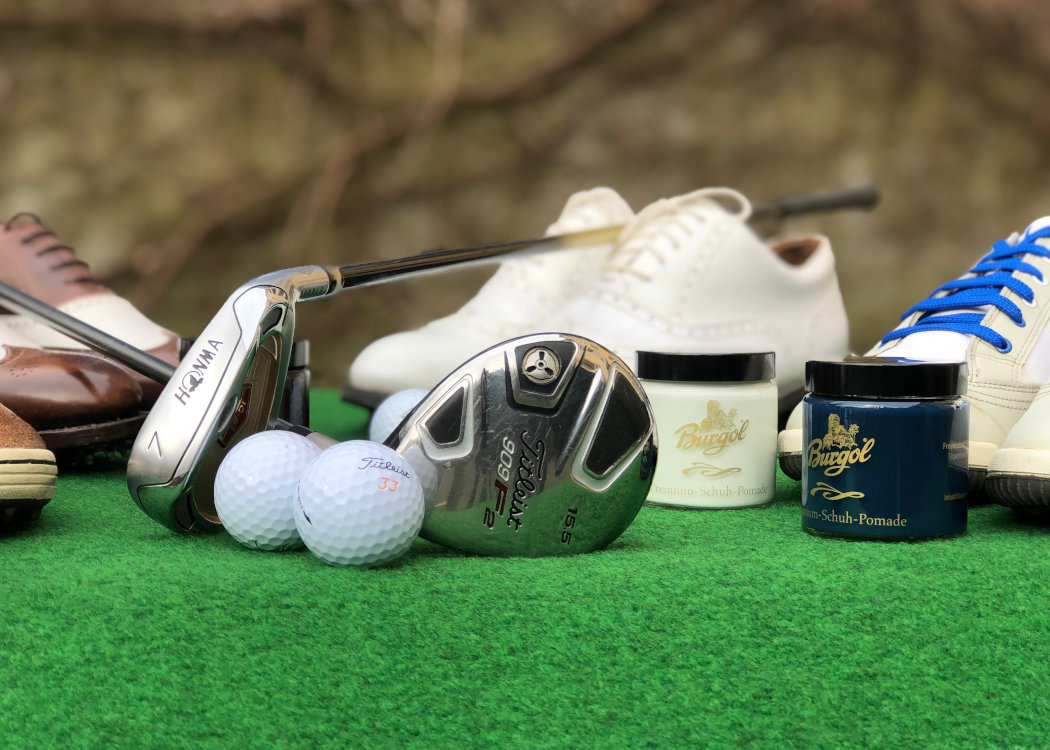 Equipping golf shoes and golf sneakers for the new season
The golf season started quite early in 2019 and many courses are already playing on summer greens. A new season should always start with well-groomed golf shoes or golf sneakers.
For some years now, golf shoes have been worn without spikes. The so-called "spikeless" models of all manufacturers and major sports shoe and golf shoe brands have now reached a market share of more than 60%. They are easier to care for and do not wear out expensive soft spikes, and can also be worn as leisure shoes off the golf course. With some brands the soles last longer than the upper leather, this will probably be due to the insufficient care.
These golf sneakers are relatively easy to care for if the right care products are used. They are hardly any different than those used to care for normal sneakers. First the old laces have to be removed so that they can be replaced by new ones. Finally it is very unpleasant if the old laces tear during a round.
After removing the shoelaces, the shoes must be thoroughly cleaned. After all, the shoes should be well cared for and thoroughly cleaned inside and out for the next few months. Because only a clean and well-kept golf shoe is a real eye-catcher, let's face it, who feels comfortable in dirty shoes?
For light soiling, cleaning with a damp cloth or shoe polishing cloth, such as the Premium 40 x 40 cm, is completely sufficient. However, you should know and observe an important point absolutely. The factory impregnation of new golf shoes will completely wear off after one year. And who likes socks and feet soaking wet?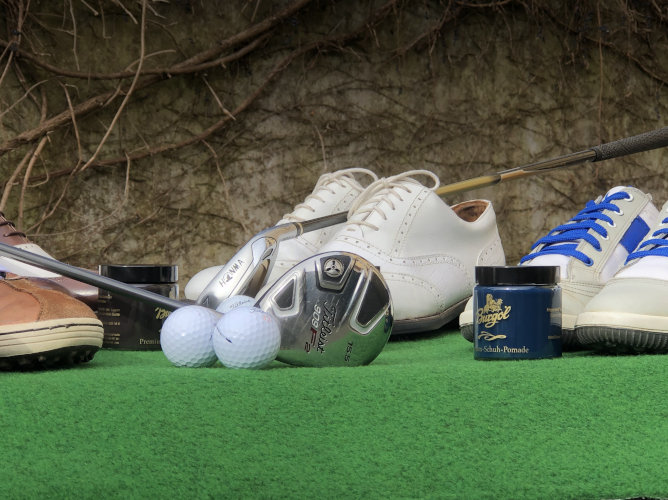 The Burgol shoe cleaner for thorough interior and exterior cleaning of shoes.
Burgol Shoe Cleaner is recommended for interior and exterior cleaning, because it creates a pleasant scent during interior cleaning and returns tanning agents lost to the leather. The shoe cleaner also has a disinfectant effect. This product is therefore not only to be understood as a versatile shoe care product, but also contains many properties of the today so popular pure shoe deodorants.
Colour refreshment and deep care with the Premium Shoe Pomade Cream
If the golf shoes are made of white leather or leather substitute (wants my artificial leather), of course brilliant white would be very desirable for the coming golf season. For these cases the opaque white Premium Shoe Pomade Cream has proven itself, as it is probably the most opaque white shoe polish on the market. It also has a deep nourishing effect on the leather and a slightly impregnating effect. It can be used to treat both open-pored upper leather (aniline leather) and covered leather. Such a deep care with the shoe pomade usually lasts a whole golf season.
Always use Burgol Shoe Polishing Wax for finish, gloss and impregnation
For the successful finish of your leather golf shoes, a slight shine and a little more impregnation, i.e. a very effective protection against wetness and damp soiling than the shoe cream alone can provide, the Shoe Polishing Wax is applied in the appropriate colour using one of the two Polishing Cloths Super Gloss or Premium and massaged in vigorously for a few minutes. It is important to leave the shoes standing for some time after applying the cream - preferably overnight - and then polish them well with a horsehair brush. The protection for the upper leather is thus complete - it can now withstand even worse weather conditions.
Master polishers are the fine polishing brushes made of goat and yak hair
Anyone who really wants to shine it to a high gloss here has already laid a veritable foundation with the shoe wax. Now the Fine Polishing Brushes made of goat or yak hair are used. Due to their elaborate manual production, these hairs are much less susceptible to manual pulling than comparable shoe brushes, last much longer and produce a shimmering of the leather that is second to none.